Zu Ihrer Sicherheit und der weiteren Eindämmung des Coronavirus finden alle Veranstaltungen unter Einhaltung der gesetzlichen Vorschriften statt. Bitte beachten Sie die Hygienemaßnahmen vor Ort.
More details
Rescheduled
Previous date:
The 11th Rory Gallagher Weekend Fürth 2021 - am Freitag mit Bad Penny(D) und Laundromat (NL)
Kofferfabrik
Lange Straße 81
90762
Fürth
Event organiser:
Kulturverein Kofferfabrik e.V., Lange Str. 81, 90762 Fürth, Deutschland
Event info
Wer hätte das gedacht? Nach 10 Jahren "Rory Gallagher Weekend Fürth" in der Kofferfabrik mußten wir ja letztes Jahr aussetzen.......
Aber es geht weiter :- )))

Eröffnet wird am Freitag, 26.11.21 gleich mit BAD PENNY, die ja in der Gallagherszene hinreichend bekannt sind. Anschließend sorgt LAUNDROMAT aus den Niederlanden dafür, dass die Stimmung weiter hochkocht.

Weiter geht es am Samstag , 27.11.21
mit einer hochinteressanten Band die sich aus Bandmitglieder aus der Türkei und Irland zusammensetzt: NEXT PASSING BREEZE. Wir dürfen gespannt sein, und werden wohl auch angenehm überrascht werden :- ))
HIGGINS aus Nürnberg zeigt uns dann wo der akustische Hammer von Rory Gallagher´s Songs hängt.
Den Abschluss am Samstagabend macht dann die 32/20 BLUESBAND und wird uns wohl endgültig in die Umlaufbahn dieses heißen Wochenendes schicken:- )

Kombiticket: VVK 33.- Euro / AK: 38,- Euro
Tagesticket: VVK: 22,- Euro / AK: 26,- Euro


Freitag 26.11. 21 spielen:
BAD PENNY (D):
Bad Penny werden in Fürth ein Konzert zu Ehren Rory Gallaghers geben. Für sie ist es eine große Freude dem Mann musikalisch zu huldigen, der sie inspiriert und nach dessen Song "Bad Penny "sie sich benannt haben . Die Band war mit ihrem Gallagher Programm in vielen Ländern unterwegs, Höhepunkte waren die Auftritte in Lille (Frankreich), Heemskerk (Holland) und natürlich das Gallagher Festival in Ballyshannon ( Irland ), wo ihr Keyboarder und Akkordeon Spieler Peter Möller, den erkrankten Lou Martin, in der "Band of Friends" ersetzte . Am Freitag steigen sie wieder in den Ring für Rory und werden neben Klassikern auch selten gespielte Songs wie King of Zydeco und Barley and Grape Rag präsentieren....lasst euch überraschen.
www.badpenny.de

LAUNDROMAT (NL):
Laundromat, the Dutch Rory Gallagher tribute band, have been on the road for the past twelve years keeping the music and memory of the great Irish bluesman alive. The present line-up comprises founder members Danny Vlaspoel (guitar) and Joeke Wouda (bass) along with drummer Joey Spijker and vocalist Fred Koridon and makes for a superb combination of musicianship and faithful interpretation of Rory's material. Frequent appearances at the Ballyshannon International Tribute Festival, the British Rory Gallagher Tribute and the Annual Dutch tribute at Wijk aan Zee have been among the many high points for the band over the years. In addition they have had the pleasure of performing with ex-Rory Gallagher band members, with Ted McKenna joining them on drums in 2007 and Mark Feltham on blues harp in 2012. Extensive tours of Ireland and their native Holland have built a loyal following who particularly appreciate Laundromat's extensive play list and sensitive feel for the very best of Rory's music. Laundromat set out to cover the full range of Rory's extensive repertoire from hard driving blues, to explosive rockers right through to emotive ballads and acoustic numbers. As a treat for true connoisseurs of Rory's music they also dip into areas of his work seldom covered live by
other tribute bands such as the storming 'Slumming Angel' off his last album, Fresh Evidence, or the gentle and heart-breaking 'Easy come and easy go' from Jinx, Edged in blue, I'm not awake yet and many, many more. This is a Rory Gallagher Tribute band with a real difference – don't miss them!
https://www.facebook.com/Laundromat.rorytributeband/

Samstag 27.11. spielen:
NEXT PASSING BREEZE:
Next Passing Breeze are a rock'n roll ensemble/band from Ireland and Turkey. The band came into existence at the end of 2019 to be able to initiate something new and original, with the idea of connecting musicians from two countries who play the music of Rory Gallagher. The band were already booked and were in the line up of two international Rory Gallagher Tribute weekends for 2020 and also they would make their debut on St. Patrick's Day, March 17th, 2020 in Istanbul. However, the pandemic stopped all live performances just two days before March 17th, 2020. Thus, the band couldn't play any gigs in 2020. With the starting of live gigs again in 2021, Next Passing Breeze will now have the chance to play at The 11th Rory Gallagher Weekend Fuerth on November 27th, 2021, Saturday which had been postponed almost a year ago. The band will perform as a power trio at the weekend with a full set of Rory Gallagher tunes. The members of the band are Ali Ataman (guitar) of CORK, Lee Riordan (lead vocals/drums) and Robert Reilly (bass) of Blind Wolf Club (also ex-Dave McHugh Band).
https://www.facebook.com/next.passing.breeze/

HIGGINS:
HIGGINS präsentiert in seinem Acoustic Solo Set eine ganz persönliche Interpretation von Rory´s Musik. Gespielt werden ausgewählte Songs, angefangen bei The Taste bis zu Rory Gallagher Alben aus allen Jahren! Authentisch, puristisch und emotional...

32/20 BLUESBAND:
32/20 Blues Band plays a tribute to Rory Gallagher`s Irish Tour 74 - Rory Gallaghers legendäres Album "Irish Tour" ist eine der besten Live Scheiben. Die 32/20 Blues Band bringt deshalb die Songs dieses Meilensteines der Musikgeschichte zurück auf die Bühne. Die Intensität, Ausdruckstärke und Spielfreude der 32/20 Blues Band spiegelt dabei die zeitlose Kraft dieses Albums wider. Die Band stand schon mit Canned Heat, Aynsley Lister und nine below zero, der ehemaligen Rory Gallagher Begleitband, auf der Bühne und ist seit vielen Jahren eine feste Größe der deutschen Bluesszene.
www.32-20bluesband.de
www.facebook.com/3220bluesband
Event location
Kofferfabrik
Lange Straße 81
90762 Fürth
Germany
Plan route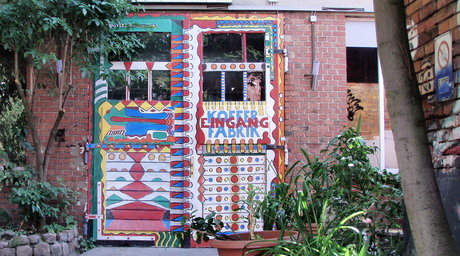 Früher produzierte man hier Koffer aller Art, heute sind ambitionierte Kulturschaffende am Werk. In dem alten Industriegebäude an der Langen Straße in Fürth ist ein Zentrum für Veranstaltungen, Freizeit und Subkultur entstanden, das sich längst schon als wahrer Besuchermagnet entpuppt hat.

Die Kofferfabrik bietet eine Veranstaltungsvielfalt, die ihresgleichen sucht: Neben Theatervorführungen, Kleinkunst- und Kabarett-Abenden, Kunst-Ausstellungen und Lesungen ist die Location vor allem als Konzertbühne für die unterschiedlichsten Bands und Künstler bekannt. Nicht nur Projekte und Musiker aus der regionalen Szene haben hier einen Freiraum, in dem sie ihre Kreativität ausleben können, sondern auch internationale Größen treten in der Kofferfabrik regelmäßig auf. Auf den insgesamt vier Bühnen konnte man bereits Live-Acts von The Shanes, Ray Wilson oder Al Di Meola erleben. Nicht selten kommt es vor, dass man die Künstler dann noch in der hauseigenen Kneipe oder im Biergarten trifft und mit ihnen ins Gespräch kommen kann.

In der Kofferfabrik gibt´s alles was das Herz begehrt. Wer gute Musik, Unterhaltung, Kunst oder einfach nur ein kühles Bier mit seinen Freunden genießen will, ist hier genau an der richtigen Adresse!
Terms and conditions
Wichtige Hinweise
Achtung ALLE unsere Konzerte laufen unter den 3G plus Regeln, d.h. nur Geimpft, Genesen oder mit PCR Test der max 48 Stunden alt sein darf.
Ihr könnt nur noch unter diesen Bedingungen auf unsere Konzerte gehen. Bitte neben dem Impf/Genesenen/PCR Nachweis eine Ausweis mitbringen, weil wir die Nachweise verifizieren müßen. Das ist so vorgeschrieben und keine Idee von uns. Dafür brauchen wir dann keine Maske mehr im MusicClub :- )
Danke für euer Verständnis